Beginner Adult Karate Classes Enrolling In May
Blackwell Academy is the premiere Karate school in the Ipswich area. We offer elite Karate training and traditional martial arts to help our students conquer any goal.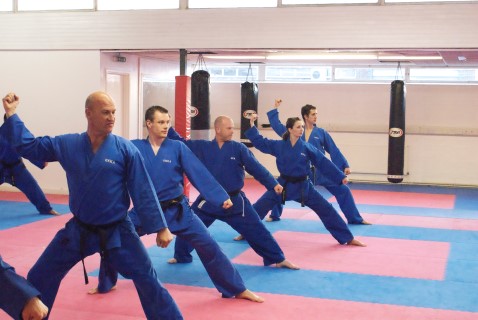 When you enroll in Adult Karate classes at the Blackwell Academy, you won't be able to wait until your next class because you'll be having so much fun kicking, punching and chopping your way to a fit, strong, healthy body and the confidence that Karate and the Martial Arts brings.
Get Healthy, Happy & Confident At The Blackwell Academy In Ipswich!
For centuries, millions of people have benefited from the teachings of Martial Arts, a system of self-defense created in the Orient that does not advocate the use of weapons. Instead, a philosophy that believes in strengthening the mind and body to self-discipline, fitness and well-being.
At Blackwell Academy, we teach the fundamentals of Martial Arts by combining the time-tested European philosophy of Martial Arts with the modern approach of Western teaching strategies. We offer a well-balanced program that emphasizes pride, self-esteem, fitness and integrity. At the Blackwell Academy we believe that every student is special and deserving of personal attention.
Get Started Today!
Call now or fill out the short form on the side of this page for all the information you need to get signed up for our amazing Adult Karate classes!
Benefits of Ipswich adult karate
Learn Effective Self-Defense Techniques
Improved Health & Fitness
Improved Discipline & Self-Control
Increased Endurance & Stamina